North American T-28 Trojan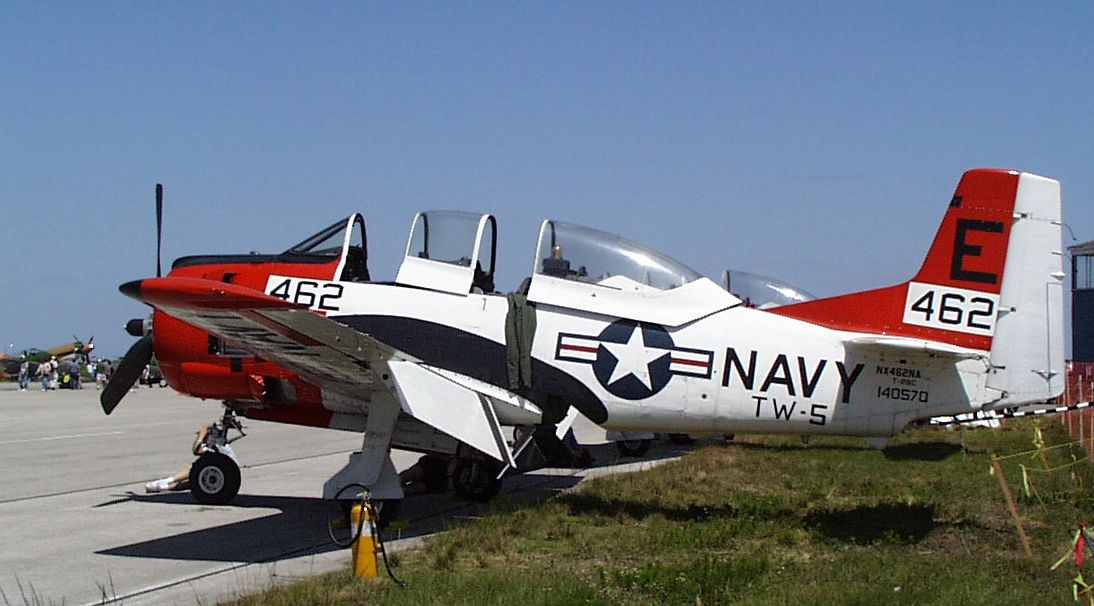 ---
This is a great description of what it takes to survive a thunderstorm in an airplane...
---
Also take a look at Logbook Magazine which seems to have some good articles and a nice T-28 picture gallery
---

Use this link buy books!

Clike Here to see flying books on Amazon.com.

Below are the two good T-28 books I've got.
---
Other Warbird Stuff
The Aircorps Depot sells Warbird theme T-Shirts and odds and ends.
---
Morey's West Coast Adventure
I went on Morey's West Coast Adventure for my IFR rating ! If you're going to get an IFR rating, want a thorough refresher, or just want an adventure, sign up for this trip. It was spectacular! I'm writing up a log, and I'll post it to this site soon.
---
Trip Stories
Check here for stories about airshows, IFR trips, and assorted other flying adventures.
---

My dad flew to Oshkosh with Dick Hendrickson, my dad was in the T-28 and Dick was in Rudy Frasca's Spitfire. Check here to see pictures my sister Helen took from the T-28.
---

This is a great book on F-105s in Vietnam.
---

Angles of Attack: An A-6 Intruder Pilot's War. Good book about A-6 flying in the first Gulf War.
---
---
Computer Stuff that is great to have
| | | | |
| --- | --- | --- | --- |
| | | | |
| This is a great, easy to run Home Server to store pictures & videos and backup home computers! I've run one for quite a while now and it is great. This version comes with 2 500GB drives in the 4 drive bays. | This is the Home server but with a single 500GB hard drive. It has 4 drive bays so buy more hard drives for more space and to enable Home Server "duplication" of files across multiple drives to protect against the failure of any single drive. | This is a great Network router and switch. Best one I've owned - especially since the switch is gigabit and that is very useful when moving many pictures and HD home video from a workstation to the Home Server. | This is the same router with wireless access point. |
---
---

Wodehouse Playhouse - Series One This is the BBC 1970's production of some of P.G. Wodehouse stories. Very funny stories!
---
Good Books. I spend 2 hours a day reading books on the train. Here are some of my favorites.
---
Canon Photo paper at Amazon.com
---
---
---
N6456U Weight and Balance Calculator
---
This web site is a member of The Aero Ring, a linked list of aviation web sites. To visit other sites in the ring, click on one of these links.
[ Next Site | Skip Next | Next 5 | Previous | Skip Prev | Random ]
Click Here for information on how to join the ring or look at a complete list of Aero Ring members.
---
Usual disclaimer

This site is being constructed as I find time to work on it. Pardon the incomplete links...
---